I got my buttons for CPH and they are perfect. Hopefully I'll get them sewn on and pictures taken tomorrow. That'll be the goal anyways.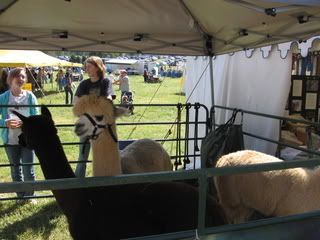 In the meantime we can talk about the
"Fall Fiber festival"
. I was lucky enough to manage a trip up. Inlaws living a mere 10 minutes from the event did help. Being my bday weekend and the family wanting it to be special also helped.
Was so much fun watching the sheepdog trials. Those dogs are amazing. If you ever get a chance you should watch them. Trust me you'll be amazed.
As it turns out tho, I'm a horrible blogger and failed to get many pictures. Some very cute things happened. Like Nathan kissing the llamas. How adoreable right? And totally blog worthy. Yet no pictures. Apparently I'm new to this blog thing and keep forgetting "hey pictures would be nice". This is what we did manage to get.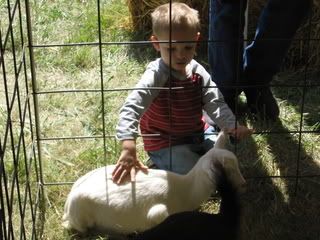 Nathan wasn't impressed with much about the festival. He could have cared less about any of the sheep. But he kissed the llamas. When they were bored with him he resorted to petting the baby goats.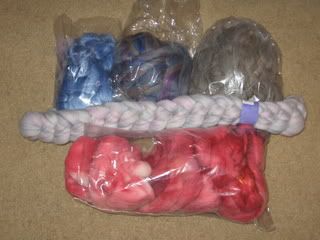 I got some fiber (30 oz to be exact) and poked around the booths. It was small and fun and hot. The sun was beating down on us. We went home and came back sunday afternoon. Where we meet Alice. and did a little spinning. Sorry Alice but this was the better of the two pictures Justin took of us. Not sure what was being said but we both have interesting expressions about it.