Carly over at http://kasiaiscarly.blogspot.com/ is running a contest. this is my entry into that contest. the contest was to name the best and worst gifts you've ever gotten. here is my story:
Best gift by far would be last Christmas. Justin had to work on Christmas and all season his schedule was so hectic that he didn't get to order my gift till late. It arrived 2 days after Christmas and he was on duty (24 hour work day). He told me if it got there that day that I could open it without him but I refused. I had no clue what it could possible be but was more curious then ever. I asked for a hint and all he said was that it would keep me busy for a while. It turned out to be a very long day waiting for him to get home. When he finally got home the next morning it's the first thing we did. He watched me open my gifts (yes plural). And they were both equally fantastic. The absolute perfect gifts for me.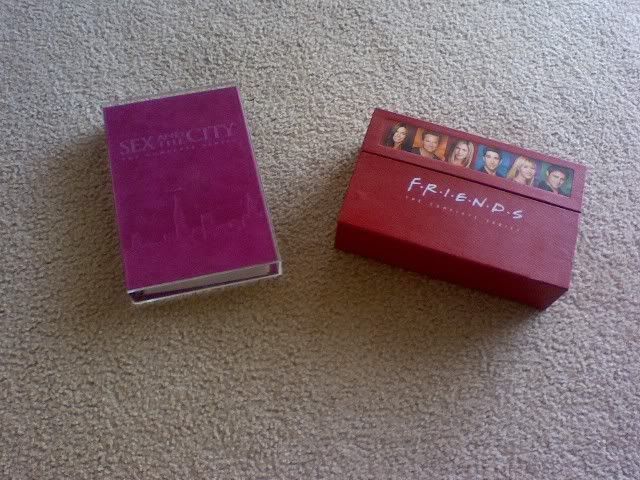 Yes yes that is the complete series for Sex and the City and Friends! My two favorite shows of all times.
Now for the worst. The worst gift ever would have to be the souvenir I got from my ex husband. He deployed about a year after we got married. But only hit the last half of a deployment so he was only gone for like 3 months. He hit several ports during that time. And I was looking forward to some fantastic souvenirs when he got back. When he got back his family had come down for homecoming. He started dishing out gifts. He gave them some fantastic things and I just kept thinking that man if he got this great stuff for them I must have something awesome. Well when he got to me he handed me the tiniest package he had. I opened it and found a broken keychain. Found out later that he had actually bought it for his sister but then when it broke he just decided he'd give it to me instead. I have no picture. I'm pretty sure I promptly tossed it into the trash.
~Jessica