So I pulled out an old project that I had actually forgotten about. When I pulled it out the other day other than the corrugated ribbing only a few rows had been worked.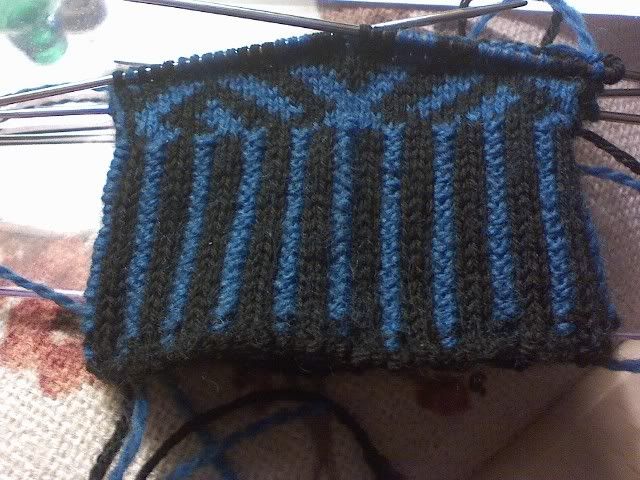 I tossed it aside in favor of a faster project at the time (it was for a swap). When going thru the knitting bags/baskets/boxes/etc the other day. I found the neglected mitten. I'm awaiting a package in the mail (a test knit. more details later) and didn't want to start anything new. I still haven't managed to remember to pick up printer ink. So this mitten was the perfect distraction until the mail arrived.
I finished the mitten today. Tho its not blocked yet and needs a mate. But I couldn't help but want to share these pictures with you. First off the inside. The floats. Because we all know seeing the inside is just as much fun as the outside (sometimes more if its neat enough).
and the mitten. In all its glory (pictures fuzzy but we are to lazy to try to get another one since we didn't realize it was fuzzy until already up on flickr and ravelry).
Pattern:Knitting Marvelous Mittens by Charlene Schurch #20
Yarn: knitpicks palette in blue and brownsheep wildefoote in black
needles: size 2.0mm
I can't wait to get this pair finished and blocked. I'm already picking out other color combinations and patterns. There is going to be more mitten knitting going on in my future.