ok I'm about 40% done with Justin's socks (which means I've just finished the heel turn on the first sock (50% would be first sock completely finished and these are anckle sock)). But they might be 1/2 inch to short *frowns*.
Oh and treat I got tired of waiting on Justin to take pictures of the socks so I took some today. Now its not the easiest to take a picture of your own feet so bare that in mind when you see the pictures (although I think I did a pretty decent job). Without further ado Autumn Socks: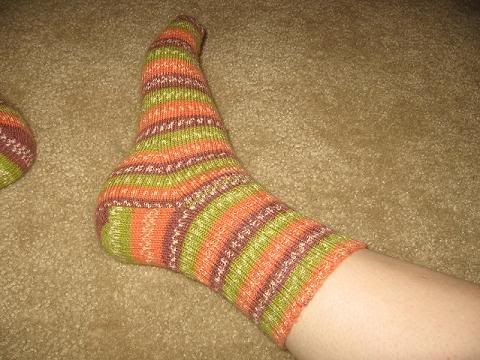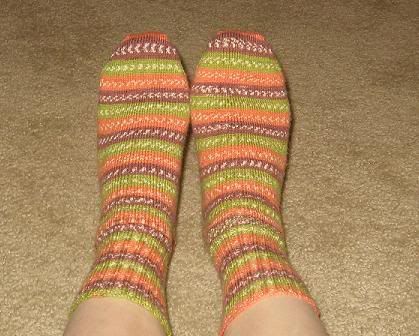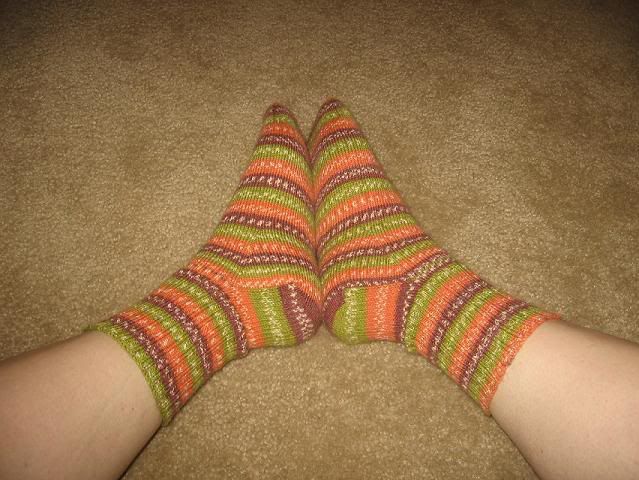 As I mentioned before the stripes dont exactly match up. But I dont like to concern myself with that. That detail has never really bothered me before. I know some people get really picky about that. But not me (remember Nathan's mismatch socks). Anyways they aren't that far off from each other and I like them.
Also a added little treat a wip shot of Justin's socks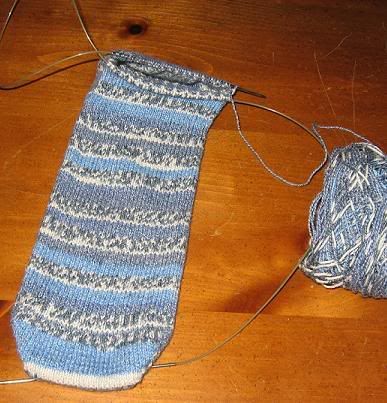 I can't wait for Justin to get home and try them on again. I really hope that they aren't 1/2 inch short like I think they are going to be. I dont really mind picking up a lifeline and frogging back, but you know if you can avoid it *shrugs*. I want to keep knitting on them but since I'm nervous about them being short it would just be more frogging.
In other news I joined a knitting group "Yarn For Breakfast" (found on meetup.com) I missed the first meet up. But I made both the superbowl one and the one this morning. I love it. Its great to finally have some local people to knit with. All the ladies are really great, we had a ton of fun this morning. I even picked up some pink sock yarn. One of the ladies brought sock yarn back from Germany and offered it to us for $10/ 100g skein. I was hoping to grab some more boyish colors. But more pink for me is always great *grins*. I might take some yarn porn pictures later, but for now this entry already has enough pictures.
Happy knitting everyone
~Rose