I got my Favorite Color Swap package in the mail today, and I love it. It's so wonderful. My secret pal picked out the best stuff for me. :) I gave tons of information on my questionnaire because that's just how I am, and she did really well with picking out special stuff from what I said. She sent me candy (Reese's Pieces, Starburst and Milky Way...my 3 favorites...now to hide it from Luke, hehe), bath/body stuff (pear & white tea moisturizer and strawberry and green apple pie scented bath crystals), a green apple scented hand-poured candle, a magnetic notepad, 3 really cute post-it pads, really pretty stitch markers she made herself (which I can't wait to use, because...well...they're like jewelry for my knitting! and they're PRETTY!) and 2 skeins (218 yds) of the most gorgeous dusty rose elann baby cashmere yarn. It's so soft. And the color is perfect. I already have a project in mind for it. I think I'm going to use it to add color to the Estonian Garden lace stole I plan to make for myself to wear at my wedding. :) The color is exactly what I have in mind for the bridesmaids' dresses (and convinced Luke to go along with last night), and I was trying last night/this morning to figure out how I could incorporate some of that pink into my stole without having to buy a separate colorway of whatever yarn I decide to use. I swear, my secret pal must secretly know me or be psychic or something. I love everything she sent me. And it was all wrapped up with pretty pink, green and bright-striped tissue paper tied with purple ribbon. (My favorite colors for the swap were pink, purple and green.)
Okay, now pictures.
The tissue paper wrapping on all the goodies. (I was too excited to get a picture before I ripped the things open, so this'll have to do, hehe.):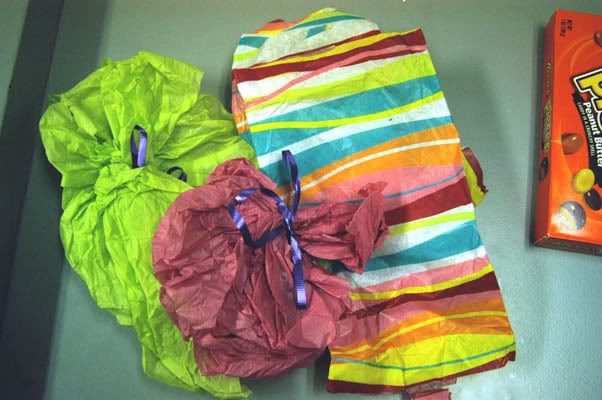 All the package contents together: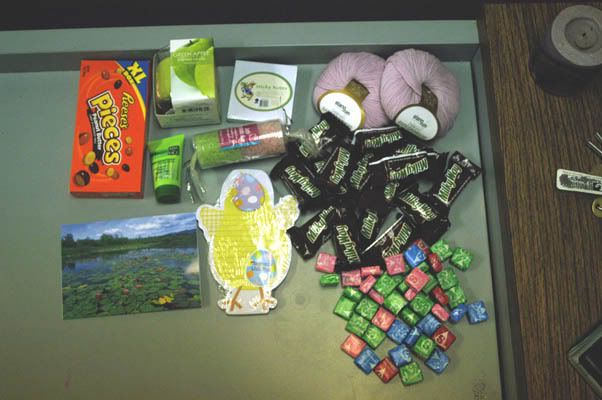 The bath/body stuff (which I can't wait to try out):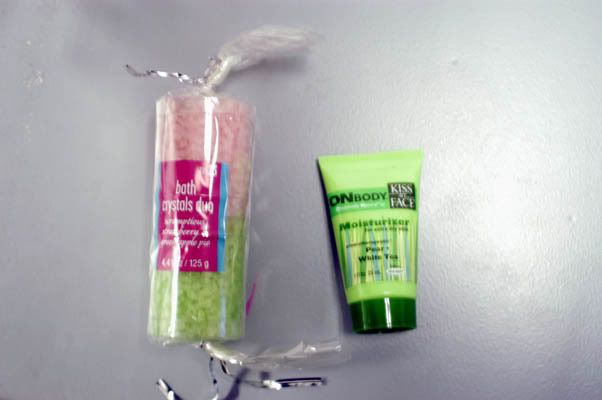 The candle (which smells so good it's making me hungry):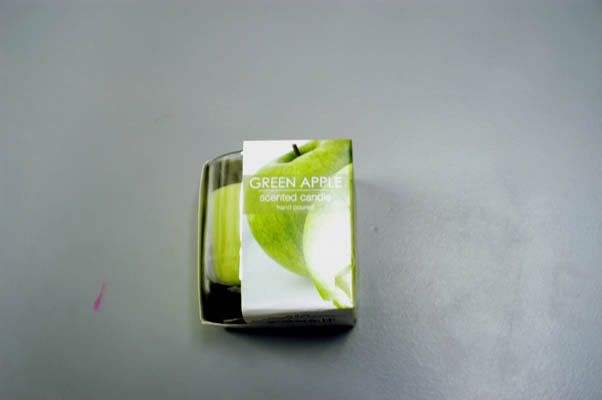 The candy...mmm: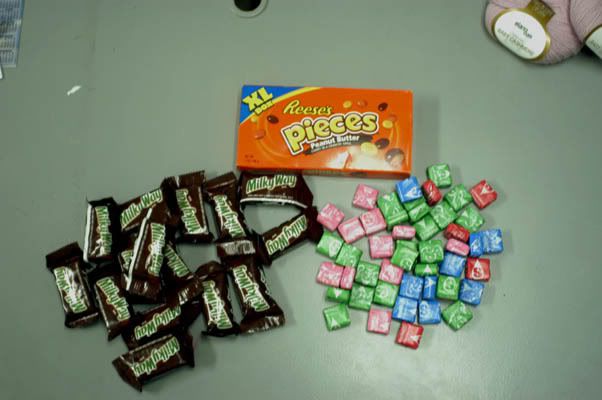 Cute notepads: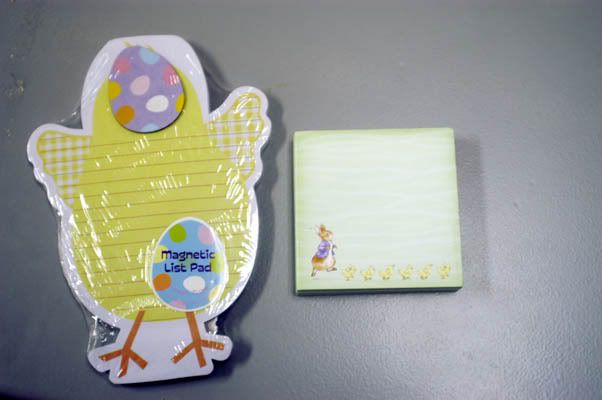 Handmade stitch markers: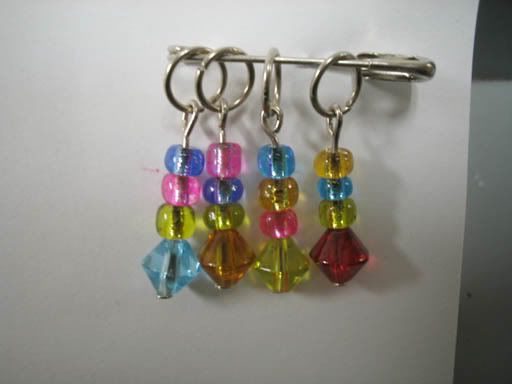 Gorgeous yarn: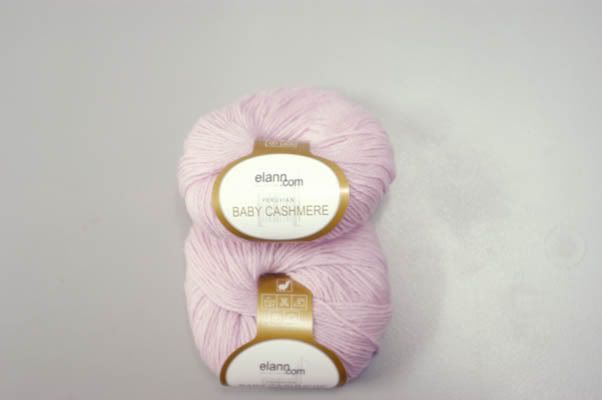 I'm so happy with this stuff and I'm glad I did the swap. If you're reading, Rhoda, thank you SO much! I love it, all of it!
I also have pictures of the package I sent off to my own secret pal. See?
This is how the box looked just before I taped it up. On top there's a mix cd (of music she likes of course) and a card. I didn't individually wrap everything because I didn't have any pretty tissue paper and the stuff was oddly-shaped and stuck in wherever I could fit it. Hehe.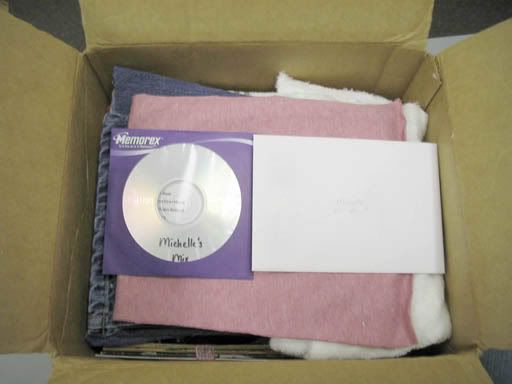 Next layer: an assortment of various fabrics. Some scraps, some remnants, some large pieces; some from my stash, some purchased specifically with this in mind. She likes sewing and patchwork, and I tried to pick out an assortment of pretty prints and textures. There's some floral, some corduroy, some denim, some jersey-knit, some satin, some shimmery...like I said, it's an assortment.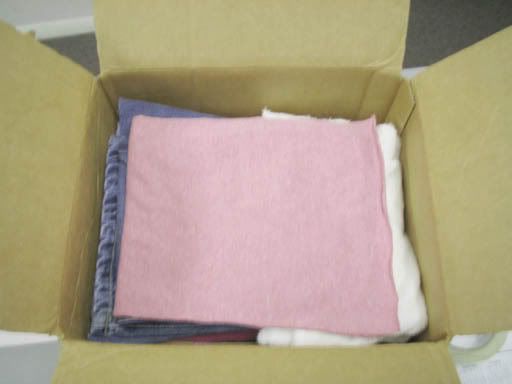 Under that, there is more fabric tucked into the empty spaces, plus a bunch of smaller stuff. In the upper corner is a bar of Dove pink soap. (Her favorite color, obviously, is pink...and she also likes red and green.) tied together with a handknitted face cloth with an "M" imprinted on it. (Her name is Michelle.) Below that is Bath and Body Works stuff...which happens to be exactly like what I have, but it smells good and it was pink and it was cheap. (Going-out-of-business sale.) :) Tucked into the edge is a group of old magazines and leaflets that I didn't plan on using. In the center, on top of some of the rolled-up fabric, are 2 packages of pink and green beads. On the right is a knitted 100% alpaca eyemask filled with rice (so it can be chilled) and lavender (for its relaxing properties and because it's one of her favorite scents). And underneath that is a homemade Sculpey magnet depicting Kentucky (complete with white mark to show where I am) to add to her collection of magnets.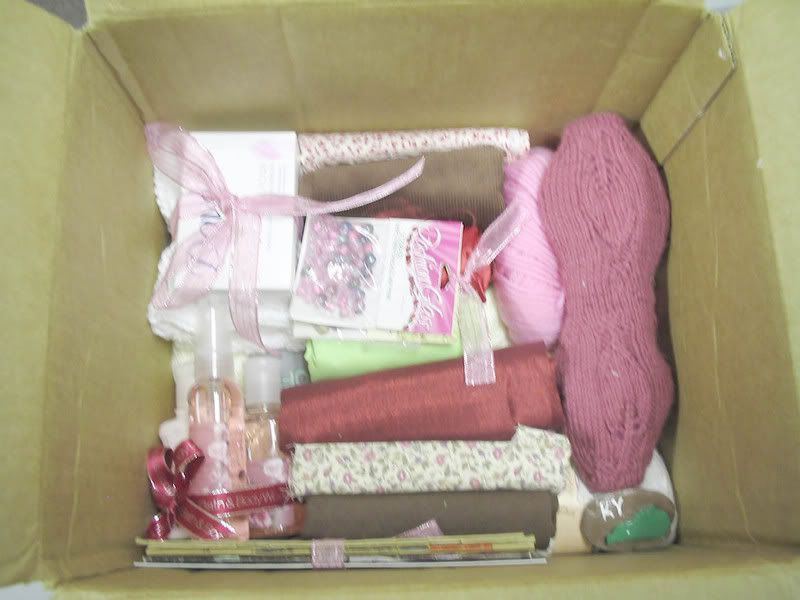 And finally, on the bottom, yarn. 3 skeins of Simply Soft in pink, green and cream, 2 balls of 100% wool from my stash, and 2 balls of Peaches & Creme, which she said she likes using.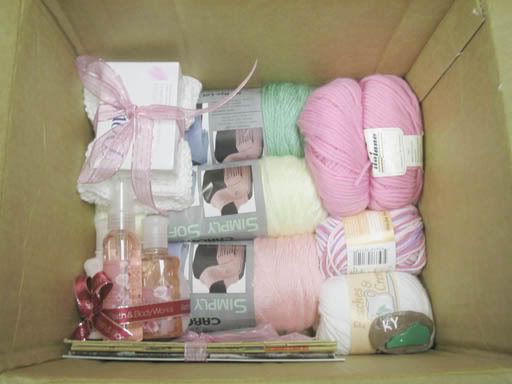 And that's her package. :) I hope she likes it as well as I like mine.
And I ALSO have progress photos of Rogue, some of Mom's Perfect Sweater and a couple of swatches for the Estonian Garden stole. I swatched the 3 lace patterns with some spare Simply Soft last night, to get an idea of the difficulty level and how long it would take. It was relatively easy, I'm happy to report. Very happy, since I plan to make 1 modified Estonian Garden stole and 3 Lily of the Valley stoles (using the modified Lily of the Valley lace pattern from Estonian Garden) before my wedding.
I'll post the Perfect Sweater pictures later (they're on the other camera card) but here are the two swatch photos...
and a bunch of Rogue-in-progress photos:
~and more pictures...later, when I have more time~
Now...to knit some more, so I have more to post. Hehe.
-Pixie