So I joined a sock kit swap over on livejournal. I convience Amie to join as well. We've already sent and recieved our kits. This is the kit I sent:
http://community.livejournal.com/sock_kit_swap/10073.html
. Which turns out I was paired with a local girl. So I got her to join the knitting group. And we are all set to get together and knit. This is the kit Amie sent:
http://community.livejournal.com/sock_kit_swap/10971.html
. The girl that Amie sent to also happen to be who sent to me. She is awesome. I love her. We've been emailing back and forth since we first got paired up. She is a total hoot. This is the kit she sent me:
http://community.livejournal.com/sock_kit_swap/11618.html
. Now right now we dont have pictures of the kit Amie got because her work computer is dumb and wont let her upload pictures. But this is the kit Amie got:
http://community.livejournal.com/sock_kit_swap/9714.html
I've already started knitting with my yarn.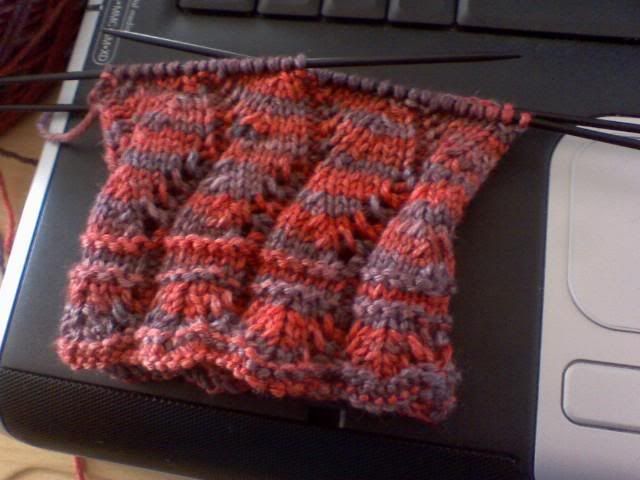 Its the waving lace sock pattern from interweave knits (featured on the front cover of the favorite socks book). I'm working it with the self dyed yarn that I got in my kit (which is 75%wool 25% silk and very nice to work with) and size 1 (2.25mm) needles.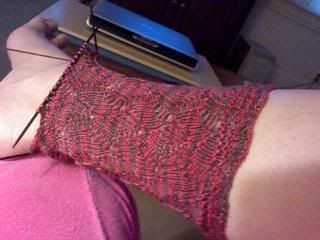 this is another shot of my progress so far. These pictures are taken inside with very poor lighting and with my phone. The color is much nicer than this. But it was raining when I took the first picture and dark when I took the second. So no bright sunny yummy sock in progress shot. I was a bad knitting and failed to do a gauge swatch for these I just picked up needles I wanted to use, yarn I wanted to use and a pattern I thought would be nice. so this picture is really me seeing if they are a disaster before I start working on the heel. they aren't. So I'm happy.
Amie is coming to visit me. Her and Luke (her fiance') and our friend Lynette are driving down on the 15th. I'm so excited. We are going to venture to some of the local yarn shops. Maybe make a trip up to twisted sisters in williamsburg. Of course loads of beach time and playing with Nathan time (my friends adore him. they are like aunts to him and he is like a nephew to them). I'm super excited about their visit. We are even considering a yarn dying extravaganza. But the details haven't exactly been worked out yet.
Another thing me and Amie plan to do while she is down is work on our blog a little (putting up something in our info). And hopefully uploading some pictures so that you can see all the awesome stuff Amie has been knitting. She is a fo queen right now. Wiping out stuff like no ones business.
But I guess this is enough of an update for now. just figured since it had been almost a month I'd better post something.
~Rose